Overview
The IT industry is a broad, sweeping term that covers many information technology oriented organizations. If you think about it, no organization (whether corporate or government or non-profit) can survive without IT.
Therefore, when we speak about the IT industry we include all organizations or departments within organizations which develop, maintain or operate the Information Technology systems.
Broadly, we can come up with the following segments for IT organizations. Many organizations will have a presence in multiple segments.
Product Companies: These are companies that work on products meant to serve a specific use for a customer. There could be pure software product companies (e.g. Adobe Systems or Computer Associates) or hybrid product companies which have both software and hardware – often bundled together but sometimes sold independently too (e.g. Google, Microsoft, Apple, etc.). Also included in this classification are the hundreds of thousands of small start-up companies looking to make their idea the next big idea.
Services Organizations: These organizations provide IT services to their customers. They are some which specialize in providing services only to the product companies whereas others provide a wide range of services ranging from network maintenance, business process outsourcing, system support, and bespoke application development.
In-house IT Departments: The IT function of some of the largest organizations may be bigger than many standalone IT companies. This function typically functions like a cost centre that provides IT services for the core business. For example, the IRCTC which serves the Indian railways builds and supports some of the most complex systems in the world.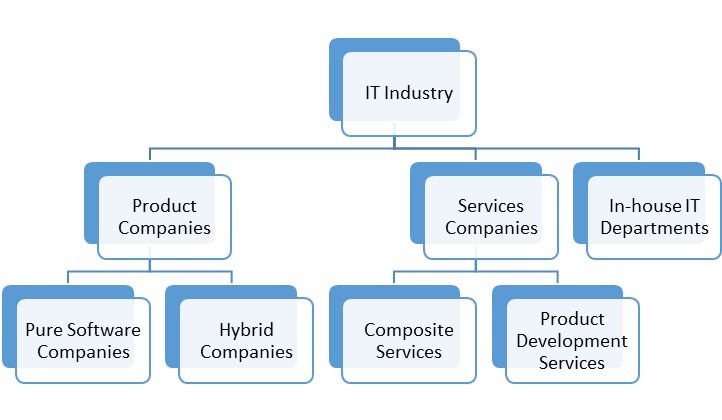 This definition is so pervasive, that it is hard to put a size estimate to it. Also, the size of the organizations may range from the Goliaths like IBM having hundreds of thousands of companies to garage based start-up companies with barely 1 or 2 people.
However, the goals of these organizations and the challenges they face are similar. They aim to make the core business more efficient, or spur new business models
Challenges
IT is one of the youngest industries in the world and therefore the challenges facing IT organizations are many.
Global Competition: IT products and services are able to overcome geographical limitations easily with the pervasive connectivity across the globe, which keeps getting faster and more reliable.
Rate of Obsolescence: It is fair to say that the IT industry re-invents its own technical infrastructure every few years. Moore's law and Nielsen's law have proven themselves to be exceptionally resilient. Modern systems (both hardware and software) look nothing like they did just a few years ago. This means the rate of adaptation to new technology has to be very high.
Disruption of business models: Using IT as an enabling technology has disrupted traditional businesses in many areas. Whether it is in bookselling (Amazon), hospitality (Airbnb) or Ride sharing (Uber), there is no telling when the next wave of disruption will come in.
Quality and Security: As IT becomes more and more embedded in traditional products and traditional businesses, it is critical to ensure that quality and security are not compromised. Imagine if a software bug causes a space shuttle mission to fail or a car to malfunction. Security is an even bigger concern. Recent malware and ransomware attacks have shown how heavily dependent we are on smooth functioning of IT systems. A huge global company like Maersk shipping was down on its knees for nearly week, trying to recover from these attacks.
Solutions
PMSoft has been working with global IT organizations across the value chain for over 13 years and understands these challenges. Here are some of the ways in which PMSoft has been helping IT organizations.
Agile product development: Flexibility and rapid deployment cycles is the need of the hour. Agile methods help in keeping the development process flexible as well as achieve rapid time-to-market. PMSoft provides training, certification as well as coaching on achieving true agility in the development processes.
Focus on Realizing Business Benefits: Technology can be addictive but organizations must adopt the right technology that solves the most pressing business problems. The product or system being built must address the business problems that organizations face. PMSoft helps keep the focus firmly on the business benefits and realizing them.
Stakeholder Engagement: IT is one of the most man-power intensive industries. The interaction and collaboration between the business and the development is critical as IT products and systems are complex and often intangible. Therefore success of IT initiatives often hinge upon the effectiveness of stakeholder engagements.
Leadership Development: PMSoft has been working on Management Development Programs that help organizations develop the next generation leaders to drive change. For a people intensive industry, the development of people is probably the biggest driver for success.
What is your specific concern/challenge? Let us know and we shall work on it together.